Cruising spinnakers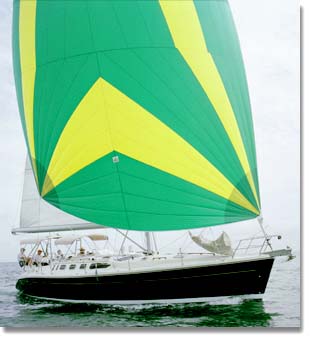 Most sailors will tell you that their favorite experience on the water is flying a spinnaker. These huge, colorful, light sails are fun for the whole crew! And they make short work of downwind sails, too.
Our OdayOwners.com cruising spinnaker is the popular Doyle Sailmakers APC, an asymmetrical, easy-to-fly sail that requires no pole.
Compare our cruising spinnaker with any other and you'll be back to buy:

Shop, and compare: we've lowered spinnaker prices by offering only the most popular fabric colors, only the most popular design, and simple, online ordering. It's a fully-featured, name-brand sail for the cost of a one-size-fits-all generic sail.

Each sail is custom-built for your exact rig dimensions, not pulled from a shelf or pre-cut to a "standard" size.

We use Contender .75 ounce nylon because lighter spinnakers fly better. In the world of sails, lighter fabric is more expensive, but you won't notice it in our prices! The sail also includes a bag with a hook on the bottom to attach to the toe rail or lifeline base.

If you choose a dousing sock we offer the popular ATN douser, among the top names in spinnaker gear.
So if you can live with a little less selection, you can save hundreds of dollars on a cruising spinnaker you'll be proud to fly!