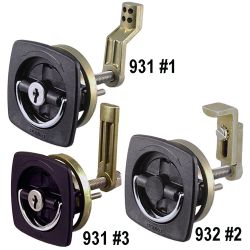 Black or white flexible plastic strike plate, with stainless steel stem and lock nut.
Fig. 932 is a latch, only Not locking
DP1 with flush cam bar
DP2 with offset adjustable cam bar
DP3 straight cam bar
Detents indicate open or closed position
Face dimensions: 2-1/2" x 2-1/2"
Easily installs in a 2" diameter hole
Door thickness: 1/4" to 1-1/8"