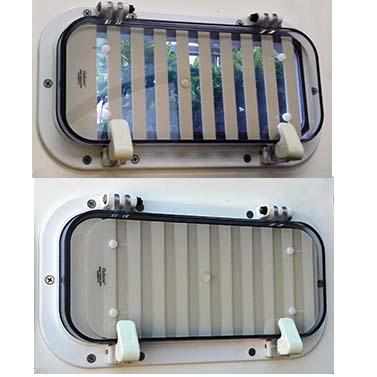 CloZures are a simple and elegant solution for replacing those dusty curtains or broken shades.
They will make your boat feel cleaner and larger. The shutters offer 100% UV protection and will make the interior 15 deg. cooler on a hot sunny day. As opposed to curtains, sunlight will filter through the shutters so the interior remains bright and cheery. When closed at night the shutters provide 100% privacy.

CloZures shutters are made from 2 pieces of 0.030 thick Polycarbonate which has been silkscreened and processed to size on automated equipment. They are manufactured using the latest UV material and technology. The CloZures function by simply moving one layer on top the second layer, thus opening or closing the shutter.

CloZures are attached to the lens/glass of the portlight or hatch via 3M low profile Dual Lock, (a Velcro type material). To install simply remove the red liner exposing the acrylic adhesive, then position and press firmly to the lens/glass. They are easily removed for cleaning.