This supplier is working with reduced staff and/or significant supply chain disruptions. If items do not show a specific quantity in stock it is likely to be delayed past the ship date shown. Thank you for your patience.
Important note about production times

Due to a nationwide shortage of Sunbrella fabric, most orders will be delayed beyond the dates shown. Our production queue is now completely dependent on which fabric colors we receive, so you could get lucky with a quick turnaround but most orders have to wait for fabric.

Limited availability -- we'll get more but we can't say when


Aquamarine
Burgundy
Cadet Gray
Captain Navy
Charcoal Gray
Erin Green
Forest Green
Heather Beige
Jockey Red
Linen
Marine Blue
Med Blue Tweed
Navy Blue
Rust
Slate
Toast
True Brown

Discontinued colors that are unavailable and aren't coming back:


Aspen
Beige
Baltic Tweed
Baltic Blue
Black Tweed
Blue Tweed
Dove
Ginkgo
Forest Tweed
Linen Tweed
Mahogany
Ocean Blue
Red Tweed
Seagrass Green
Spa
Tan
Teal
Wheat
Yellow

Currently, Sunbrella shipments arrive without warning and fail to arrive without notice. But it will arrive, we just don't know when. We recommend ordering now so you have a place in line. We authorize your card upon purchase but that expires in a week and we don't collect payment until the product ships. You can cancel any time until fabrication begins. Thank you for your patience during this challenging time.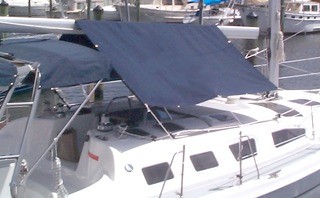 Save your skin and keep your cabin cooler!


A simple Boom Tent is just the ticket to protect you from too much sun and keep the companionway shaded for a cooler cabin. Offered in varying sizes up to 10 x 14 feet, the tent drapes over the boom and has reinforced grommets in the corners and along all four sides for attachment to the lifelines and shrouds (please note: sizes can vary an inch or two from the quoted size based on seam allowances).

Customers frequently use bungee cords for attaching, but a simple line for tying off works well too (bungee or lines not included).