3-3/8 in. Engine Synchronization Indicator Gauges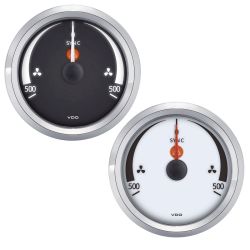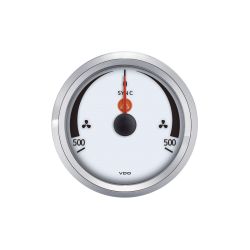 Make Sure Your Twin Engines Are Running At the Same RPMs
On twin engine vessels, running the two engines at different speeds induces a tendency for the vessel to turn (go in a circle) - which requires constant, and often fatiguing, helm correction. Additionally, out-of-sync engines can induce propeller "drag", as well as irritating engine and hull vibration, and "steer-offs" during acceleration and deceleration.
Note that just because your throttle levers are set evenly doesn't necessarily mean the engines are turning at the same rpms.
An engine synchronization gauge provides a visual indicator, allowing you to adjust your throttle settings so both engines turn at the same rpms to eliminate the above issues.

With gasoline engines, the synch gauge uses the same signal source as your tachometers (the negative terminal of the ignition coil, or an AC tap on the alternator). In fact, the engine sync gauge is often simply connected to the input terminals on the tachometers. The synch gauge then senses any difference in voltage due to a difference in the frequency of firing pulses from the two engines. If there is a difference, the gauge needle is deflected from zero (the synchronization point).

With diesel engines, the sync gauge is connected to a generator sender off the cam or crankshaft, or an AC tap on the alternator.
NOTE: This particular engine sync gauge will NOT work with a magnetic sender off the flywheel (as it can only accept a maximum of 25 pulses per revolution).

Note: Bezel shown in image is not included. See Related Products, below, for bezel selection.
LED illumination
IP67 waterproof rating
Constructed of non-corroding materials
Includes Tyco connector


Heavy on the technical side...

Note the difference between an engine synchronization indicator - like this one - which gives you a visual indication of whether your engines are running at the same revolutions per minute...
...and an engine synchronizer, which is an actual (expensive) mechanical device that controls the engine throttle setting of a "follower" or "slave" engine linked to the "lead" engine, whose throttle the helmsman manually controls - keeping both engines perfectly in sync all the time.